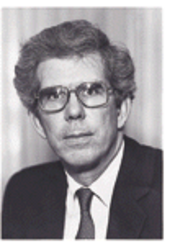 Philip Don Estridge was born on June 23rd of 1937 in Jackson Florida. By 1959 he completed a BS in electrical engineering at the University of Florida and later joined IBM as a junior engineer in New York. He conrtibuted to the Federal Systems Division by participating in the construction of an early warning defense system that depended substantially on radar and computers. This defense system was know as SAGE.
By 1963 he moved to Washington to support NASA in the Goddard Space Flight Center, but later moved back to Florida by 1969. Working within his home state he later became the manager of a small system inBoca Raton Florida, which involved a substancial amount of responsibility for the development of small microprocessor-based systems. This group consisted of twelve engineers and designers. The division developed IBM's first PC and by January of next year the small group of twelve had increased to approximately 135 people. It integrated into a large business with a strong vision for the future. They took big risks and learned many lessons along the way, transforming the way we work and live. The invention of PC made a collossal impact on the world as it soared into the market, still prospering as one of the greatest technological inventions in our history.

Estridge was selected to be the director of the Entry Systems Business in July of 1981, accountable for the IBM Personal Computer. In January of the following year he was appointed division director of the Entry Systems Business Unit and after a few months was chosen to be System Products Division vice president and general manager of the Entry Systems.
By 1984 nearly one million PC's had been sold and the population of the organization had grown to aproximately 9,500 people. Don Estridge had become IBM's vice president for manufacturing.
His contributions and creativity fashioned an entirely new realm in the world of technology. Subsequent to his death on August 2nd of 1985; the flourishing inventor was apart of an aircraft catastrophy and died near Dallas Texas alongside his wife, he was greatly missed and remembered for his outstanding achievments. The first IBM computer fair was rounding the corner a few weeks after his death. It was not a passionately cheerful celebration without the president of IBM's Entry Systems Division. After all, Philip D. Estridge was the creator and producer of the IBM PC that fabricated sky-rocketing market sales all around the globe.
IBM's chief executive officer John F. Akers said: "Don Estridge was a man of vision whose skill and leadership helped guide IBM's personal computer business to success. He has a very bright future in our business. He and Mary Ann (his wife) will be greatly missed by all their friends and colleaugues."
By: Paige E. Duncan.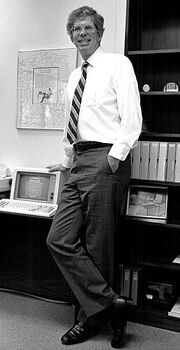 Sources:
"Philip Donald Estridge." Web. 19 Sept. 2011.
http://www.thocp.net/biographies/estridge_don.html
IBM Archives (c). "Philip D. Estridge." Web. 19 Sept. 2011.
http://www-03.ibm.com/ibm/history/exhibits/builders/builders_estridge.html
Jacksonvillecity.in. "Philip Don Estridge." Web. 19 Sept. 2011.
http://www.jacksonvillecity.in/famous-native-individuals/philip-don-estridge/